If you're a Hollywoodbets user and have found yourself locked out of your account, don't worry – you're not alone. Account closures can happen for various reasons, but the good news is that reactivating your Hollywoodbets account is a straightforward process.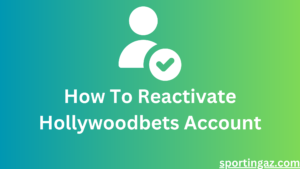 In this comprehensive guide, we'll walk you through the steps to reactivate your Hollywoodbets account, essential information about Hollywoodbets access codes, and how to reinstall the Hollywoodbets app
What To Do If Your Hollywoodbets Account Is Closed
Before we delve into reactivation, let's understand why your Hollywoodbets account might have been closed. Hollywoodbets may suspend or close an account due to the following reasons:
Inactivity

: If you last used your account long ago, Hollywoodbets may pause it. In such cases, reactivation is usually simple.

Account Verification

: Please complete the required verification process to avoid an account closure.

Breach of Terms and Conditions

: Hollywoodbets has strict terms and conditions that users must adhere to. Violating these terms can result in account closure.

Self-Exclusion

: Your account will be temporarily suspended if you voluntarily exclude yourself from using the platform. Reactivation is possible after the exclusion period ends.
Hollywoodbets Access Code Explained
What is a Hollywoodbets Access Code?
A Hollywoodbets Access Code is a protective characteristic that adds another layer of security to your account. It's a unique code sent to your registered mobile number or email address. You'll need this code to verify your identity and access your account.
How to Reactivate Your Hollywoodbets Account
Now, let's get into the nitty-gritty of reactivating your Hollywoodbets account. Follow these steps:
1. Contact Customer Support.
Reach

 out to Hollywoodbets 

customer support

 via email or live chat.

Explain your situation and request assistance with reactivating your account.
2. Provide Necessary Information
Hollywoodbets may request some information to verify your identity, such as your full name, registered email, and phone number.

Be prepared to provide any additional details they require.
3. Hollywoodbets Access Code
If your account was closed due to security concerns, you might need to request a new Access Code.

Ensure you can access the email or mobile number linked to your Hollywoodbets 

account

to receive the code.
4. Follow the Instructions
Flow with the instructions provided by customer support to reactivate your account.

This may include resetting your password or completing the 

verification

process.
5. Check Account Status
Once you've completed the necessary steps, your account should be reactivated.

Log in to your Hollywoodbets 

account

 to confirm it works properly.
How Do I Reinstall The Hollywoodbets App?
If you prefer the Hollywoodbets mobile app, reinstall it after reactivating your account. Follow these steps:
Step 1: Uninstall The App
Locate the Hollywoodbets app on your device.

Tapping and holding the app icon will enable to uninstall it, then select the option to uninstall.
Step 2: Download the App
You can download the app by visiting the official app store on your phone or device (e.g., Google Play Store for Android and the App Store for iOS).

Search for "

Hollywoodbets

" and download the app.
Step 3: Log In
Open the newly installed Hollywoodbets app.

Log in using your reactivated account credentials.
Read Also:
Hollywoodbets Contact Details: How To Speak To Someone
Hollywoodbets Lucky Numbers Guide: How To Play And Win
Hollywoodbets Withdrawal Problems And Solutions
Conclusion
In conclusion, reactivating your Hollywoodbets account is manageable if you follow the above steps. Remember to maintain compliance with Hollywoodbets' terms and conditions to ensure a smooth and uninterrupted betting experience. If you encounter any issues during reactivation, don't think twice to contact their customer support for assistance. Happy betting!
FAQs:
Q1: How long does it take to reactivate a Hollywoodbets account?
A: The reactivation process usually takes a few hours to a day, depending on the verification requirements and customer support response time.
Q2: What if I forgot my Hollywoodbets Access Code?
A: You can request a new Access Code by contacting Hollywoodbets customer support and providing your account details.
Q3: Can I reactivate my Hollywoodbets account if it was closed due to self-exclusion?
A: You can reactivate your account once the self-exclusion period expires. Contact customer support for assistance.
Q4: Do I need to reinstall the app after reactivating my account?
A: If you've uninstalled the Hollywoodbets app, reinstall it and log in with your reactivated account details.