Whether you've recently moved, changed your email address, or want to update your Bet9ja profile, ensuring your current and accurate details is vital. Not only does this protect your account, but it also provides a seamless experience while playing or betting. This compelling guide will walk you through the step-by-step process of updating your Bet9ja details.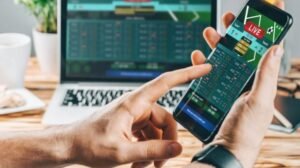 Why It's Important to Update Your Bet9ja Details?
Security:

 Keeping your details up-to-date protects your account from potential fraudulent activities.

Efficiency:

 Accurate details mean a smoother transaction process, especially regarding withdrawals.

Communication:

 Ensure you take advantage of all critical information, promotional offers, or updates from Bet9ja.
Here's How to Change Your Bet9ja Details:
1. Log in to Your Bet9ja Account
Navigate to the Bet9ja website or open the mobile app.

Enter your login details (username and password).
2. Access 'My Account
Once logged in, go to the top right corner of the homepage.

Click on your profile name or picture to drop down the account options.

Select 'My Account' or 'Account Settings.'
3. Navigate to 'Personal Details
Several options related to your profile, betting history, and more will be available in the' My Account' section. Find and click on 'Personal Details' or a similar area.
4. Edit Your Details
In this section, you can view your account's personal details. This normally includes your name, date of birth, email address, phone number, and more.

Click the 'Edit' or 'Modify' button next to the information you want to change.

Update your details as needed.
5. Save Changes
After updating your details, always click the 'Save' or 'Update' button. This will ensure that all your changes are stored correctly.
6. Verify Changes (if required)
For some crucial details, like changing your email address or phone number, Bet9ja might send a verification code or link. This ensures that the new information provided is accurate and accessible to you.
If prompted, key in the verification code that will be sent to your new email or phone number.

Alternatively, click on the verification link sent to your email.
7. Log Out and Log Back In
After making changes, logging out and back into your account is a good practice. This ensures all updates are registered and active during your next session.
8. Secure Your Account
Reviewing your security settings is an excellent opportunity whenever you change your details. Update passwords if necessary and activate two-factor authentication if available.
Conclusion
Your Bet9ja account is a gateway to a world of betting excitement. Ensuring that your details are up-to-date and accurate safeguards your account and enhances your betting experience. Follow this guide to make changes quickly, and always remember to play responsibly.
FAQs
Q. Why is it important to keep my Bet9ja details updated?
A: Keeping your details up-to-date ensures that your account remains secure, transactions are efficient, and you stay informed with all the latest communication and promotional offers from Bet9ja.
Q. I forgot my Bet9ja login details. What should I do?
A: Navigate to the Bet9ja login page and click the "Forgot Password" option. Follow the prompts to reset your password. If you continue to have issues, contact Bet9ja customer support for assistance.
Q. Do I need to verify my account after changing details?
A: This largely depends on what details you change. Changing crucial contact information like email addresses or phone numbers may require verification to ensure the new pieces are accurate.
Q. How often can I change my details on Bet9ja?
A: There's no set limit on how often you can update your details. However, frequent changes might be flagged for security reasons, so updating them only when necessary is recommended.
Q. I made an error while updating my details. Can I correct it?
A: Yes, follow the steps outlined in the guide to re-access your personal details section and make the necessary corrections.
Q. Are there any charges for updating my account details on Bet9ja?
A: No, updating your account details on Bet9ja is free. However, always ensure you're on the official Bet9ja website or app to avoid phishing scams.
Q. Will changing my details affect my betting history or wallet balance?
A: Changing your details will not affect your betting history, wallet balance, or other account features. It simply updates your contact or personal information.
Q. Can I change my username on Bet9ja?
A: Generally, most betting platforms do not allow users to change their usernames for security and identification reasons. It's best to check with Bet9ja's official policies or contact their customer support for clarity.
Q. How do I activate two-factor authentication for added security?
A: This option might be available under the security settings in your account. If available, you can follow the prompts to set up two-factor authentication. If you need more clarification, contacting Bet9ja customer support will provide guidance.
Q. I need help with updating my details. Who should I contact?
A: If you encounter any problems or have concerns while updating your details, it's best to contact Bet9ja's customer support team. They can provide guidance and assist with any technical issues.
We hope these FAQs clarify the process and address common concerns about updating your Bet9ja details. Always be cautious and ensure you access and update details only on the official Bet9ja platform.