For countless sports enthusiasts and betting lovers, Bet9ja is a reliable and consistent platform for sports betting and gaming in Nigeria. However, like all services, users sometimes encounter issues, have queries, or need clarification about certain platform aspects.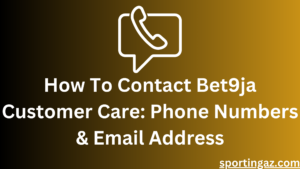 In such cases, contacting Bet9ja's customer care becomes vital. If you are one such user, worry not! Here's your comprehensive guide to getting in touch with Bet9ja customer care.
How to Contact Bet9ja Customer Care
1. Why Might You Need to Contact Bet9ja Customer Care?
Account Issues

: From registration troubles to account verification.

Deposit/Withdrawal Concerns: Issues related to money transfers, transaction statuses, and payment methods.

Betting Queries

: Unclear bet statuses, cash-out problems, or understanding odds.

Promotions and Offers

: Questions about eligibility, terms, and conditions.

Technical Glitches: Problems with the website, mobile app, or other malfunctions.
2. Contacting Through Phone
If you prefer real-time voice interaction, phoning Bet9ja's customer service might be your best bet. Here are the official phone numbers:
Tip: Before calling, ensure you have relevant details ready – such as your account ID, transaction details, or bet slip numbers, to facilitate a quicker resolution.
3. Email Support
Email communication remains one of the most efficient ways to get a detailed answer to complex queries. When you choose this mode, it also provides a penned down record of your communication, which can be useful for future reference. Send your emails to:
Key points when emailing:
Subject Line

: Indicate your issue for faster sorting and response.

Account Details: Always mention your username or ID (but NEVER your password).
Attachments: Screenshots or any relevant documents to help you understand your issue.
4. Social Media Channels
Bet9ja also maintains a presence on popular social media platforms in this digital age. While these channels are primarily for updates, promotions, and news, they sometimes address customer concerns:
Remember, avoid sharing personal or sensitive account details publicly while reaching out via social media. Use direct messages for privacy.
Read Also:
How To Meet Bet9ja Wagering Requirements: Strategies And Guides
An Easy Guide on How to Restore a Disabled Bet9ja Account
A Step-By-Step Guide on How to Change Your Bet9ja Details
5. Website Live Chat
Many users find the live chat option on the Bet9ja website the quickest way to get answers. Visit the website and look for the 'Chat with us' or 'Live Chat' option, usually at the bottom right of the screen.
Conclusion
While Bet9ja aims to offer a seamless betting experience, issues are inevitable in any service. Knowing how to contact their customer care ensures you can quickly return to what you love – enjoying the thrill of the game and making informed bets. Always be patient and courteous with customer service representatives – they're there to help you!
Frequently Asked Questions (FAQs) on Contacting Bet9ja Customer Care
1. Why might I need to contact Bet9ja's customer care?
There could be various reasons, from account-related issues, betting queries, technical glitches, and questions about promotions and offers.
2. What are Bet9ja's official customer care phone numbers?
You can reach them at 

01- 4405145

 and 

01- 2796666

.
3. Is it safe to share my Bet9ja account details via email?
While it's safe to share your username or ID when necessary, you should NEVER share your password or other sensitive details via email or any other platform.
4. How responsive is the Bet9ja email support?
Normally, you can expect a reply within 24-48 hours. However, response times might vary depending on the inquiries they receive.
5. Can I get support from Bet9ja on social media?
Yes, Bet9ja maintains profiles on platforms like Twitter and Instagram. While they primarily post updates and promotions, they sometimes address customer concerns. Always use direct messages for privacy.
6. Is there a live chat option for immediate assistance?
Bet9ja's website offers a live chat feature, which is often the quickest way to get answers. Look for their website's 'Chat with us' or 'Live Chat' option.
7. What information should I have ready when contacting Bet9ja customer care?
Having relevant details like your account ID, transaction details, or bet slip numbers is helpful. This ensures a quicker resolution to your issues.
8. I have a technical issue with the Bet9ja app. Where should I report this?
For technical problems, you can use email support detailing the issue with relevant screenshots or reach out via the live chat on their website.
9. I noticed a discrepancy in my bet. How urgently should I contact them?
It's always best to contact Bet9ja's customer care when you notice any discrepancies or issues. This ensures timely resolution.
10. Are there any charges for calling the Bet9ja customer care numbers?
The cost of the call will depend on your telecom service provider's rates and whether it's a local or STD call for you. Bet9ja doesn't charge any additional fees for customer service calls.
Remember, whenever you're reaching out to customer service – on any platform – it's essential to remain patient and courteous. They're there to assist you, and a positive attitude always helps resolve things faster.