When you talk about online sports betting and daily fantasy sports, DraftKings is a household name. Whether you're a seasoned player or a newcomer looking for assistance, it's essential to know how to contact DraftKings' customer care for support and information.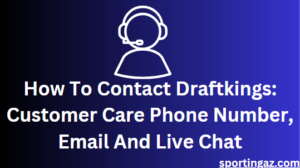 In this comprehensive guide, we will explore DraftKings customer care overview, service hours, and contact options and answer frequently asked questions to help you have a seamless experience.
DraftKings Customer Care Overview
DraftKings prides itself on offering excellent customer service to its users. They understand that players may have questions or need assistance, and they're committed to providing the necessary support to enhance your gaming experience.
How To Get In Touch With DraftKings
There are three primary methods for contacting DraftKings customer care: by phone contact, email, and live chat.
DraftKings Phone Number
DraftKings customer service needs to provide a specific DraftKings phone number for direct calls. However, you can always seek assistance using DraftKings live chat feature on the company's website. Head to the official website and access DraftKings "Help Center." On the bottom right corner of the "Help Center" page, you will see the chat icon; click on it to initiate a conversation with the DraftKings support team, who will assist you with your inquiries, concerns, or other issues that you may encounter.
If you prefer to communicate through email, DraftKings offers an email support option. You can send your inquiries to support@draftkings.com. Their support team will typically respond to email inquiries within a reasonable timeframe, but response times may vary depending on the volume of demands.
DraftKings Customer Service Hours
DraftKings customer service is available 24/7, 365 days a year. You can get in touch with them by live chat or email.
DraftKings Live Chat Hours
DraftKings live chat is available 24/7, 365 days a year. You can access live chat by going to the DraftKings website and clicking on the "Contact Us" link on the page. Then, click on the "Live Chat" button.
Please note that DraftKings live chat may experience high volume during peak hours, such as during major sporting events. If you are unable to connect with a live chat representative immediately, please be patient and try again later.
How To Chat With People On DraftKings
DraftKings' live chat feature is a quick and efficient way to get assistance with your inquiries or issues. To begin a live chat session, visit the DraftKings website and look for the live chat icon. Click on it, and you'll be connected with a customer support representative who can aid you in real time.
How Do I Contact DraftKings VIP?
If you're a VIP or have specific inquiries related to VIP services, DraftKings has a dedicated VIP support team. You can get connected with the VIP by sending an email to dkvip@draftkings.com. They will provide personalized assistance to cater to your VIP needs.
How Long Does It Take For DraftKings To Reply?
The response time from DraftKings' customer care team may vary depending on the nature of your inquiry and the current volume of requests. In general, DraftKings strives to provide prompt responses to customer inquiries. For urgent matters, live chat is often the fastest way to get assistance.
Read Also:
Draftkings Gift Card | Where To Buy And How To Use
How To Bet On DraftKings (A Complete Guide)
Is DraftKings Casino Legit? A Detailed Review
Conclusion
Contacting DraftKings' customer care is easy and convenient, thanks to their multiple support options. Whether you need help with technical issues, have questions about promotions, or require VIP assistance, DraftKings is committed to providing you with the support you need. Knowing how to contact DraftKings ensures that you can enjoy an express and smooth gaming experience and get quick answers to your inquiries. Don't hesitate to reach out whenever you need help – they're here to help.
Frequently Asked Questions (FAQs)
To further assist you, here are some frequently asked questions associated with contacting DraftKings:
How can I reset my DraftKings password?
To reset your DraftKings password, visit the login page and then click the "Forgot Password" there. Follow the instructions provided to reset.
What do I do if I encounter technical issues while using DraftKings?
If you notice any technical problems, you can contact DraftKings customer support via phone, email, or live chat for assistance in resolving the problem.
Can I reach DraftKings customer support outside of their service hours?
DraftKings' customer support is available during the specified hours. If you need assistance outside of these hours, you can leave an email or use the live chat, and they will respond when they are back online.
How can I inquire about promotions and bonuses on DraftKings?
For questions about promotions and bonuses, you can contact DraftKings customer support through any of the provided contact methods, and they will be happy to assist you.