Download DraftKings app, and open a world of fantasy sports and thrilling bets right at your fingertips. Whether you're a seasoned sports aficionado or a newbie looking to dip your toes into the exciting waters of sports betting, this app promises an unparalleled experience.
Not sure where to start? Fear not! Our guide is here to walk you through every step of the download and installation process. Let's embark on this digital journey and unlock endless sports excitement.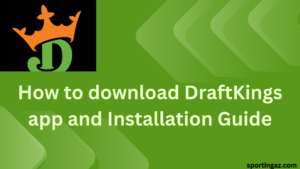 DraftKings App Overview
DraftKings, founded in 2012, is a leading daily fantasy sports contest and sportsbook provider. The app lets users enter daily and weekly contests across various sports, betting against other users or the house.
One of the major draws of the DraftKings app is its user-friendly interface, allowing newbies to navigate quickly and pros to make swift decisions. From football to basketball, golf, and even esports, there's a contest for every sports lover.
DraftKings, initially renowned for its daily fantasy sports offerings, has significantly expanded its horizons to become a one-stop destination for sports aficionados. The DraftKings app mirrors this growth by providing users with an intuitive, sleek, and comprehensive platform right at their fingertips.
Features:
Fantasy Sports: The app offers a diverse range of sports, from football and basketball to golf and MMA. Players can join existing contests or create their own challenging friends or the broader DraftKings community.
Sportsbook: In states where sports betting is legal, users can place bets on a multitude of events, including live in-game wagers.
Live Streaming: Some events offer live streaming within the app, allowing users to watch and bet in real-time.
Casino Games: Where legal, the DraftKings Casino offers games like blackjack, slots, and roulette, expanding entertainment options for users.
User Experience: The app is designed for ease of use, with a clean interface, easy navigation, and features like lineup editing, fund management, and more.
Promotions & Rewards: Regular promotions, bonuses, and a rewards program ensure that users always have opportunities to maximize their winnings and benefits.
How to Download and Install DraftKings App
How to download DraftKings app: below is a clear Step-by-Step Installation Guide on how to go about it:
For Android:
Visit the Official DraftKings Site:

 Due to Google's restrictions on gambling apps, the DraftKings app isn't available directly from the Google Play Store. Instead, go to the DraftKings website on your mobile browser.

Navigate to the Download Section:

 Scroll to the bottom of the site and look for the section dedicated to mobile apps.

Download the APK File:

 Move Curso and Click on the Android, and the APK file will start downloading.

Permit Installations from Unknown Sources:

 Go to your device settings, and under the "Security" or "Applications" section, toggle on "Unknown sources."

Install the App:

 Flow with the on-screen instructions to install. Once you Open the downloaded APK file and 
For iOS:
Visit the Apple App Store:

Open the App Store on your iOS device to download DraftKings app.

Search for DraftKings:

 Use the search bar and type in "DraftKings."

Download and Install:

 Find the official DraftKings app and tap "Get" to start downloading. It will automatically install once the download completes.
Is DraftKings Free to Download?
Yes, The DraftKings app is free to download for both Android and iOS devices. While downloading the app won't cost you a dime, remember that placing bets or entering contests might require a deposit.
Read Also:
Can You Bet on DraftKings Without the App?
Yes, you can! DraftKings offers a fully functional website you can access through any desktop or mobile browser. While the app provides the convenience of betting on the go, the website ensures you get all the features and contests if you prefer a bigger screen or don't have the app installed.
Is There a Monthly Fee for DraftKings?
DraftKings does not charge a monthly subscription fee. Users can register, download the app, and even browse contests without any cost. However, you must deposit funds into your account to participate in contests or place bets. The platform might charge entry fees for specific contests, so always read the terms before entering.
Top Tips:
Safety First:

 To avoid malicious software, download the app from the official DraftKings website or the Apple App Store.

Stay Updated:

 Regularly update the app to benefit from the latest features and security enhancements.
Watch the video below to learn how to download DraftKings app on your mobile phone.
Conclusion
The DraftKings app offers a seamless experience for sports enthusiasts looking to participate in daily fantasy contests or sports betting. With its free download and easy installation process, you can join the action in no time. Always bet responsibly and enjoy the game!
FAQs
Is the DraftKings app safe to download?
Yes, the DraftKings app is safe. Always download the app from the official DraftKings website or the Apple App Store.
Can

I use the DraftKings app outside the US?
DraftKings operates in specific jurisdictions where online sports betting is legal. Always check local regulations before using the app.

Are there age restrictions for using DraftKings?
Typically, you must be 18 or older, but age requirements might vary depending on local laws.